Explore an Outdoor Reading Adventure
We partner with Tennessee State Parks Conservancy, city parks and outdoor areas to create enriching outdoor reading experiences for children and families to connect literacy with a fun, physical activity. This program presents a children's storybook on child-height panels along a short trail to promote adult-child interaction around books and nature. Each panel features a reading tip to encourage family engagement by bringing the book to life for children. 
The Beginning
In July 2018, Governor's Early Literacy Foundation partnered with the Tennessee State Parks Conservancy to launch the Storybook Trail program. The first Storybook Trail at a Tennessee State Park was developed and executed at Long Hunter State Park, with the debut of the "Reading Ranger Trail" in 2016. With that inspiration, Governor's Early Literacy Foundation has been able to expand the program across the state, in partnership with parks at all levels.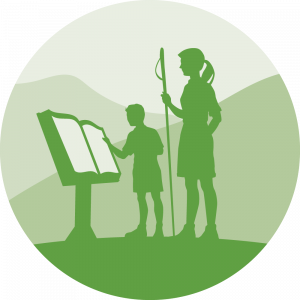 Storybook Trails Across Tennessee
The Storybook Trail program now includes 51 trails in Tennessee, including locations at 24 Tennessee State Parks. We're always expanding the program to serve more Tennessee families at outdoor spaces across the state.
Please zoom in on the map to view the locations of all trails.