Dolly Parton joined Gov. Bill Haslam, First Lady Crissy Haslam and Gov.-elect Bill Lee to celebrate Governor's Books from Birth Foundation (GBBF) and Tennessee's Imagination Library program at the Tennessee Executive Residence on Monday, November 26. At the celebration, Dolly Parton presented Gov. Haslam and Gov.-elect Lee with a special edition of her book, Coat of Many Colors, on behalf of GBBF and its efforts to sustain the Imagination Library program statewide since 2004.
The special presentation took place during GBBF's Annual Statewide Partners Dinner. The dinner is an annual gathering of GBBF Board Members and statewide funding partners to highlight the growth and impact of Tennessee's Imagination Library.

"We are so proud of Governor's Books from Birth Foundation and Tennessee's Imagination Library for leading the way as the only statewide Imagination Library program, giving every Tennessee preschooler the opportunity to build a love of reading and learning from birth," said Gov. Bill Haslam.
"We'd like to thank the 600+ volunteers in each of Tennessee's 95 counties and the partners statewide who support GBBF and work so tirelessly to put books in the homes of Tennessee families, providing the tools to help children develop early literacy skills before kindergarten," said First Lady Crissy Haslam.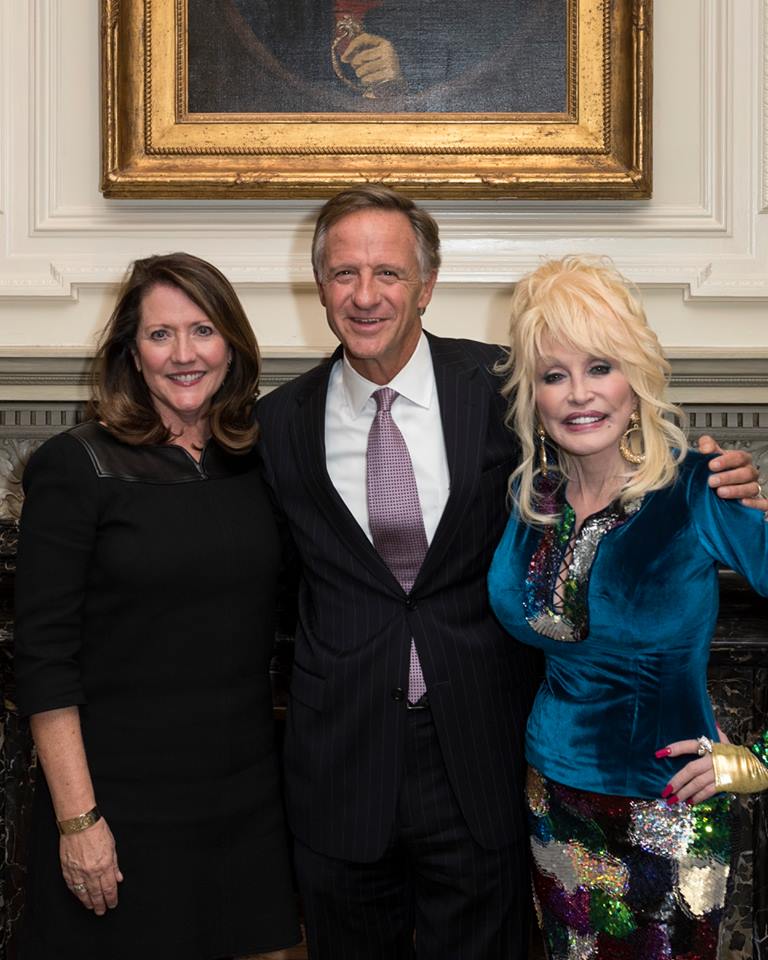 The Imagination Library (IL) program mails age-appropriate, high-quality books each month to enrolled children, birth to age five, at no cost to families. Dolly Parton created the IL program in 1996 as a gift to the children in her hometown of Sevierville, Tenn. The program is available to all age-eligible Tennessee children through a unique public-private partnership with GBBF, Dolly Parton's Imagination Library and affiliate programs in each of Tennessee's 95 counties. In 2004, former Gov. Phil Bredesen established GBBF to provide financial and administrative support for affiliate IL programs, expanding the program statewide.
Through this partnership, Tennessee has remained the only statewide IL program for 14 years, mailing over 34 million books since 2004. Currently, 70 percent of the state's total eligible population is enrolled in the program, resulting in 286,000+ children receiving books each month.

With vital financial support from the Tennessee General Assembly, foundations, individuals, and corporate sponsors, GBBF funds half the cost of books for enrolled children in each of Tennessee's 95 counties. The Dollywood Foundation manages selection, pricing and distribution of the books. Each local affiliate program, the majority managed by volunteers, enrolls children, promotes the program in its community and raises funds for the other half of the cost of books and mailing.